Travel
Why US Domestic First Class Tickets Don't Always Equal Lounge Access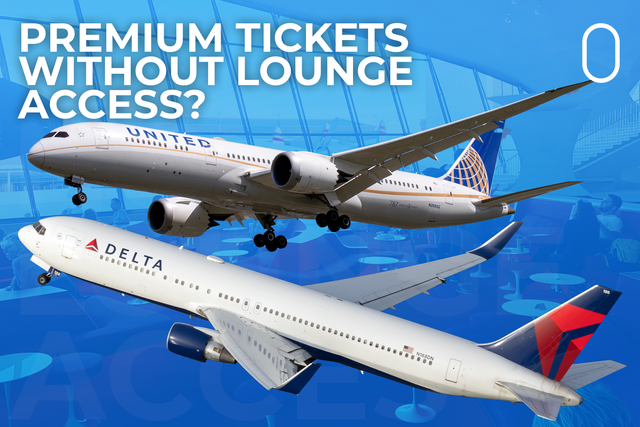 Passengers around the world usually gain access to some sort of lounge with their first-class tickets. This is not the case in the United States, where a domestic first-class ticket does not guarantee admission to first class lounges. When traveling on American, Delta, JetBlue, United, and other airlines in the US, lounge access is dependent on the ticket, the flight itself, and the passenger's loyalty status. In this guide, we will simplify these complex rules and explain who is able to gain access to lounges on domestic flights in the United States.
Lounges in the US
Compared with the headline lounges of international airlines such as Emirates, Qatar Airways, Singapore Airlines, Air France, and Lufthansa, the domestic first class lounges in the United States tend to offer much less in amenities. There is often a (relatively) limited variety of food and drink, and the lounge usually only consists of a few seating areas. Nevertheless, these lounges still offer a comfortable place to work or rest ahead of a flight.
The Big-Three US carriers – American, Delta and United – all operate lounges at their hub airports across the country. American has Admirals Clubs at all its hubs, which include Los Angeles (LAX), Phoenix (PHX), Washington-National (DCA), Miami (MIA), and more. United's United Clubs can be found at their hubs in San Francisco (SFO), Houston (IAH), Newark (EWR), Washington-Dulles (IAD), Denver (DEN), Chicago (ORD), and Los Angeles (LAX). Delta Sky Clubs are at their hubs in Atlanta (ATL), Detroit (DTW), Salt Lake City (SLC), Seattle (SEA), and more. In addition to their hubs, all three of these airlines also operate lounges at major airports around the country. For example, Nashville (BNA) is not home to any of the Big-Three airlines but is home to an Admirals Club and a Delta Sky Club.
American Airlines' Flagship Dining offers a more luxurious service than its Admirals Club. Photo:
American Airlines
Both United and American also operate flagship international lounges in the international terminals of their hubs. The United Polaris Lounge and the American Flagship Lounges are only accessible to passengers traveling on long-haul international flights, and select intercontinental domestic flights, in First and Business.
Stay informed: Sign up for our daily and weekly aviation news digests.
So who gets access to the standard domestic lounges?
The standard lounges (American Admirals Club, United Club, and Delta Sky Club) have different access conditions.
American Airlines allows passengers with Executive Platinum, Platinum Pro, Platinum, and Concierge Key status to enter. In addition, oneworld Sapphire and Emerald passengers can also use the facility. Those traveling in first or business on transcontinental routes (JFK to LAX and SFO) are also eligible. Passengers can also purchase a day pass to access the lounge. This costs $59 per passenger.
Delta's passengers traveling on Delta One, Delta's international business product, or SkyTeam first and business can all use the Sky Clubs, which are located across the country at major airports. SkyTeam Elite Plus Members (and those who have the Delta equivalent status) are also eligible for entry. Delta also offers Sky Club memberships, which are available for purchase for $545 per person or $845 for three people. Delta Reserve Credit Card Holders can use the service as well.
United's Polaris Lounge at San Francisco (SFO) offers a wide selection of food and beverage. Photo: United Airlines
United Club memberships cost $550 per year, which is slightly more expensive than Delta's Sky Club memberships. United Polaris business or first class passengers can also use the lounge. Status holders with United and with Star Alliance can also expect to use the club. United also sells day passes at $50 per visit.
Source link